GOQii Vital ECG Activity Tracker With 3 Months Personal Coaching Subscription Black
(1 Unit in box)
GOQii Vital ECG Activity Tracker With 3 Months Personal Coaching Subscription Black
(1 Unit in box)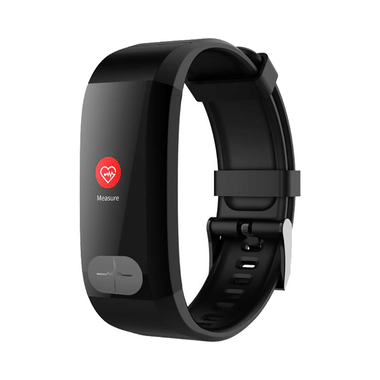 Product Details
GOQii Vital ECG Activity Tracker with 3 Months Personal Coaching Subscription provides ECG screening (Single lead resting ECG) via tracker which you can sync with the GOQii app where you can check the descriptive ECG reports powered by Tricog. You can share these reports with your physician via a share button on the app itself or save it as a PDF on your phone for further evaluation. It also monitors your heart rate, calories burned, distance covered, active hours, and sleep patterns in an OLED colour display. GOQii tracker comes with an integrated USB charger on its core device with up to 7 days of battery life.

Uses:
It helps to monitor ECG, heart rate, calories burned, distance covered, active hours, and sleep patterns.

Product Specifications and Features:

Helps to measure your ECG, heart rate, and steps with a built-in USB charger
Helps to track exercise in real-time and measure steps, exercise duration, pace and heart rate
It is waterproof and swim-friendly
Battery life runs for up to 7 days under normal usage
Connects wirelessly via Bluetooth to GOQii iOS (version 8.0 and above) or Android app (version 4.3 and above)
Gives WhatsApp, SMS, email and call notifications
Comes with 3 months personal coaching subscription

Directions For Use:
Use as per requirement or as directed by the physician.

Safety Information:

Disclaimer: This is not a medical device or an alternative to medical ECG device. Please consult your doctor before use
Read the label carefully before use
Store in a cool dry place away from direct sunlight
Keep out of reach of the children
This product is non-returnable.