Sansui Digital Fingertip Pulse Oximeter Black
(1 Unit in box)
Sansui Digital Fingertip Pulse Oximeter Black
(1 Unit in box)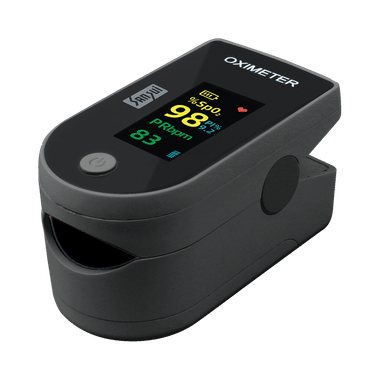 Product Details
Sansui Digital Fingertip Pulse Oximeter, Three Color TFT Display, Measures SpO2 levels, Pulse Rate (PR) and PI% is a small, light-weight device which offers an affordable, reliable and precise way to check your pulse rate and blood oxygen saturation levels-whenever and wherever.

Uses
It is primarily used to determine the SpO2 (blood oxygen saturation levels) and pulse rate.

Product Specification and Features:

Features a single-button operation to measure your blood oxygen saturation levels ( SpO2) as well as your heart rate (pulse)
Display range: 35% - 100%
Measurement accuracy: within the range of 70% - 99%
Pulse rate measurement range: 25bpm - 250bpm
Automatic shutdown: when no finger is inserted, it will be automatically shut down after 8 seconds

Directions For Use
Use as directed.

Safety Information:

Read the label carefully before use
Keep out of reach of the children
Store in a cool dry place
The screen comes with a protective film to prevent scratches and damage to the screen. Please remove this film before use
This product is non-returnable.