Sat-Isabgol Powder
(200 gm Powder in box)
Sat-Isabgol Powder
(200 gm Powder in box)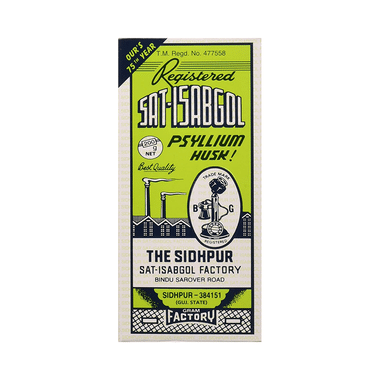 Product Details
Sat-Isabgol Powder Isabgol or psyllium husk is a fibre made from the husks of the Plantago ovata plant's seeds. It helps relieve symptoms of constipation and mild diarrhoea by increasing the bulk in your stool, causing movement of the intestines.

Key Ingredients:

Indications:
It is indicated for managing constipation, diarrhoea, irritable bowel syndrome, haemorrhoids, and intestinal problems.

Key Benefits:

Helps enhance digestion and cleanse the colon effectively
Helps regulate bowel movement and treat irritable bowel syndrome
It helps relieve constipation and diarrhoea
It contains soluble fibre that can help lower cholesterol

Dosage:
Take one teaspoon daily with water or juice as directed by the physician.

Safety Information:

Do not exceed the recommended dosage
Read the label carefully before use
Store in a cool, dry place away from direct sunlight
Keep out of reach of children

Frequently Asked Questions:
Can we have psyllium husk daily?
Fibre helps normalise bowel movements and has multiple health benefits. There is no evidence that the daily use of fibre supplements is harmful. Consult a health practitioner for the best results.

How long does it take to show effect?
Psyllium husk can produce a bowel movement within 12 to 72 hours. Consult your health practitioner if your symptoms do not improve or worsen.