OneTouch Select Plus Test Strip Green
(50 Test Strips in box)
OneTouch Select Plus Test Strip Green
(50 Test Strips in box)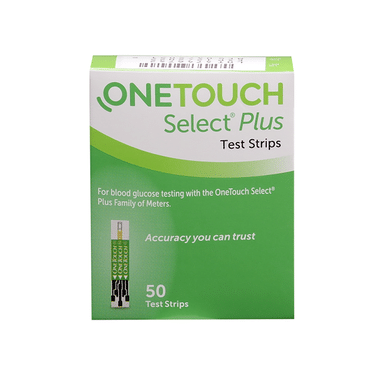 Product Details
OneTouch Select Plus Test Strip Green
OneTouch Select Plus is a simple blood glucose monitoring system for quantitatively measuring glucose (sugar) in fresh capillary whole blood samples drawn from the fingertips. The OneTouch Select Plus simple blood glucose monitoring system is intended to be used by a single patient and should not be shared.

Uses:
It helps in testing the sugar levels in the blood at home without any hassle.

Product Specifications and Features:

OneTouch Select Plus Test Strips 50's pack to be used with OneTouch Select Plus Simple Glucometer only (black in colour)
LifeScan is a world leader in blood glucose monitoring – globally, more than 20 million people depend on this iconic OneTouch® brand products to help them manage their diabetes. Visit www.Lifescan.com to know more about OneTouch's vision and mission
OneTouch is the no.1 recommended brand by diabetologists in India (In a survey conducted in India in 2020 with 150 diabetologists)
Easy to understand when you are high, low or in range with ColourSure technology (In a clinical study conducted in the UK in 2016 with 59 subjects, 88% agreed. Be sure to talk to your healthcare professional about the range limits that are right for you. The OneTouch Select Plus Simple® meter comes with pre-set ranges and cannot be changed. For more information, please refer to the product owner's manual)
Provides results in just 5 seconds
Each strip is intended for single-time use
Measuring range: 20mg/dl-600mg/dl
Highly Accurate - 9 years of proven accuracy at very low and very high blood glucose levels(S. Setford et al., Journal of Diabetes Science and Technology 1–8, 2017). Meets International Standards of EN ISO 15197:2015 (In vitro diagnostic test system requirements for blood glucose monitoring systems for self-testing in managing diabetes mellitus)
Directions For Use:
Insert a test strip into a glucometer
Apply blood to the top of the strip
The results will be on the screen
Safety Information:
Store unused strips in vial only
Each test strip is for single use only. Do not reuse
Do not open the test strip vial until ready to remove a strip and perform a test. Use the test strip immediately after removing it from the vial
Do not store the used test strip in the vial
Store between 5°C and 30°C. Do not refrigerate
Replace cap immediately after use to avoid contamination and damage
Read the label carefully before use
Keep out of reach of children

Quick Tips:
Always touch the test strips with clean and dry hands.

Warranty info:

Customer care number: 1800225544 from Monday to Sunday between 8 AM to 8 PM
This product is non-returnable.