Nidos -AF Body Wash
(100 ml Body Wash in bottle)
Nidos -AF Body Wash
(100 ml Body Wash in bottle)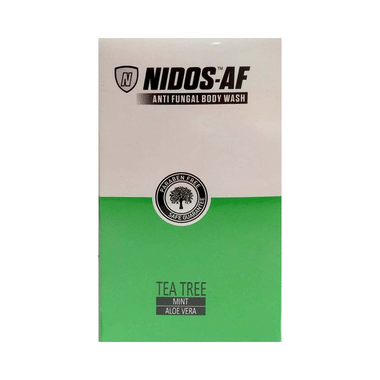 Product Details
Nidos -AF Body Wash is an antifungal body designed to kill or prevent the growth of fungi on the skin. It contains mint and tea tree oil known for its antifungal properties. Nidos -AF Body Wash is useful for skin conditions such as athlete's foot, ringworm, and jock itch, which are caused by fungal infections. This body wash also contains aloe vera that helps to moisturize and soothe dry, itchy, and irritated skin.

Key Ingredients:

Sodium Lauryl Ether Sulphate, Propylene Glycol, Aqua, Cocoamidopropylbetain, Aloevera Gel, Ketoconazole, Polysorbate 20, Cocomonoethanolamide, Polyquaternium-7, Tea Tree Oil, Peppermint Oil, Polyquaternium-10, D-Panthenol, Disodium EDTA, Methylchloro-isothiazolinone, Methylisothiazolinone
Key Benefits:
Body washes containing tea tree oil and peppermint oil have antifungal properties that help to kill or prevent the growth of fungi on the skin, making it effective management for skin conditions such as ringworm, jock itch, and athlete's foot
Aloe vera gel is known for its soothing and moisturizing properties, which can help to relieve dry, itchy, and irritated skin caused by fungal infections
Peppermint oil and tea tree oil has a refreshing and invigorating scent that can help to wake you up in the morning and leave you feeling energized
Aloe vera gel is rich in vitamins and antioxidants that can help to nourish and protect the skin from damage caused by free radicals and sun exposure

Good to Know:
Nidos -AF Body Wash is paraben free

Best Suited For:
All skin types

Ideal For:
Men/Women

Product Form:
Liquid

Container Type:
Bottle

Area of Application:
Full body application

Concern:
Fungal infection

Directions for Use:

Pour the body wash on the wet sponge or hand
Massage over the body or the affected areas and rinse thoroughly
Safety Information:
Keep at room temperature in a dry location away from direct sunlight
Rinse with clean water if the product comes in contact with the eyes
Keep out of reach of children

Quick Tips:
Fungal infections can be prevented by practising good hygiene, avoiding sharing items, and keeping the skin and nails clean and dry.

Frequently Asked Questions:

Q. What are the symptoms of a fungal infection?
Symptoms of fungal infections depend on the type of fungus involved but can include redness, itching, swelling, scaling, and blisters.

Q. Are all fungal infections contagious?
Not all fungal infections are contagious, but some can be spread through contact with infected individuals or contaminated items.

Q. What are fungal infections?
Fungal infections, also known as mycoses, are infections caused by various types of fungi.