MuscleBlaze MB Mass Gainer XXL Chocolate
(2.2 lb Powder in packet)
MuscleBlaze MB Mass Gainer XXL Chocolate
(2.2 lb Powder in packet)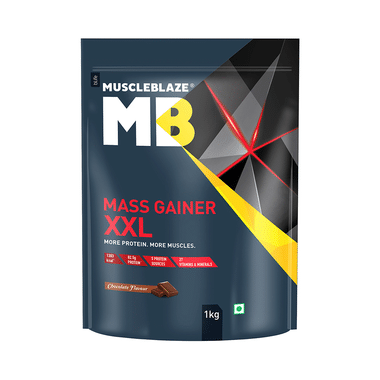 Product Details
MuscleBlaze Mass Gainer XXL is crafted for fitness enthusiasts that wish to gain weight and musce mass with complex carbs and high-protein blend. It is formulated with the goodness of 27 essential vitamins and minerals which boost immunity and prevent the damage caused by oxidative stress in the body. It's 1:3 ratio of protein and carbs offers stamina and strength for intense workouts It is available in various delectable flavours.

Key Ingredients:

Mlik Solids (skimmed milk powder, whey protein concentrate, whey protein isolate, milk protein concentrate)
Key Benefits:
3 servings of this mass gainer provide 1383 calories, 82.5 g protein and 247 g carbs to the muscle building enthusiast
Protein and complex carbs in the ratio of 1:3 in the gainer builds energy and strength for intense training sessions
27 vitamins and minerals fulfill the dietary gaps and to boost immunity
Free from trans-fat the weight gainer ensures that the calories come from complex carbs and high-quality proteins
This protein gainer also provides the body with essential branched-chain amino acids for lean muscles and rapid recovery of the muscles

Directions For Use:
Add 01 level scoop (100g) in 300 ml chilled milk/water and shake for 30-40 secs until mixed well.

Safety Information:

Read the label carefully before use
Store in a cool and dry place away from direct sunlight
Keep out of reach of the children
Consult your healthcare professional before using this product if you are pregnant, nursing, taking any medication or having a medical condition
This product is non-returnable.