Multani Shukra Shakti Tablet
(100 tablets in bottle)
Multani Shukra Shakti Tablet
(100 tablets in bottle)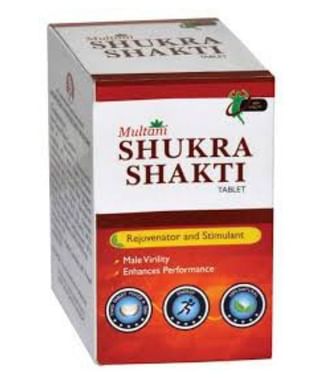 Product Details
Multani Shukra Shakti Tablet contains Talmakhana (Asteracantha longifolia), Salam Mishri(Eulophia campestris), Shweta Musli (Asparagus adscendes), Kaunch Beej (Mucuna pruriens), Mishri (Saccharum officinarum), Chandan Shweta (Santalum album), Elaichi (Elettaria cardamomum), Louh Bhasma as its active ingredients.

Key benefits of Multani Shukra Shakti Tablet:
Helps in increasing sperm count.
Helps in improving sexual desire.

The direction for use:
Take 2 tablets three times a day with milk after meals or as directed by the Ayurvedic doctor.

Safety information:
Keep out of the reach and sight of the children. Do not exceed the recommended dose.

Use under medical supervision.