Himalaya Anti Hair Fall Shampoo
(400 ml Shampoo in bottle)
Himalaya Anti Hair Fall Shampoo
(400 ml Shampoo in bottle)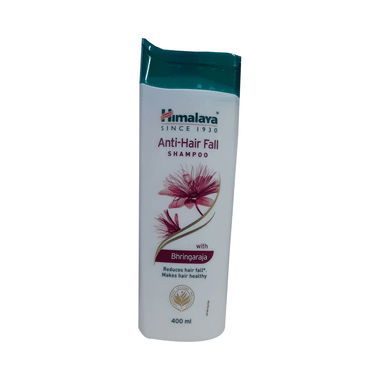 Product Details
Himalaya Anti Hair Fall Shampoo is a hair care product designed to address hair fall and promote healthy-looking hair. The shampoo is formulated with a combination of herbal ingredients and natural extracts known for their beneficial properties. The shampoo is fortified with ingredients, which are known to help reduce hair breakage and nourish the hair. Himalaya Anti Hair Fall Shampoo has a 2-in-1 formula, as it not only helps in reducing hair fall but also provides nourishment to the hair. It can help in reducing hair fall caused by breakage and improve the overall health and appearance of the hair.

Key Ingredients:

Aqua, Ammonium Lauryl Sulfate, Decyl Glucoside, Lauryl Glucoside, Cocamidopropyl Betaine, Dimethicone, Amodimethicone, Laureth-23, Polyquaternium-10, Laureth-4, Glycol Distearate, Acrylates Copolymer, Polyquaternium-7, Fragrance, PEG-150 Distearate, Citric Acid, Glycerin, Potassium Sorbate, Sodium Benzoate, Disodium EDTA, Maltooligosyl Glucoside, Hydrogenated Starch Hydrolysate, PEG-45M, Methylchloroisothiazolinone, Methylisothiazolinone, Sodium Hydroxide, BHT, Cicer Arietinum Seed Extract, Butea Frondosa Flower Extract, Eclipta Prostrata Extract

Indications:
It is indicated for reducing hair fall, strengthening weak hair and promoting hair growth.

Net Quantity:
400 ml

Product Form:
Liquid

Key Benefits:

The shampoo is formulated with ingredients like Bhringaraja, which is known to help reduce hair fall and promote hair growth
The shampoo contains natural extracts that provide nourishment to the hair, helping to improve its overall health and appearance
Himalaya Anti Hair Fall Shampoo is designed for regular use and can be used as part of your daily hair care routine
The herbal ingredients in the shampoo are believed to help strengthen weakened hair, making it less prone to breakage
Dosage:
Massage Himalaya Anti-Hair Fall Bhringaraja Shampoo gently into wet hair and scalp
Rinse thoroughly and repeat if necessary
Safety Information:
Read the label carefully before use
Store in a cool and dry place, away from direct heat and sunlight
Keep out of reach of children

Frequently Asked Questions:
Why is my hair thinning?
Hair thinning can be caused by various factors, including genetics, age, poor nutrition, hormonal changes, and certain medical conditions.

How many strands of hair fall is normal in a day?
It is normal to lose around 50-100 strands of hair per day. However, this number can vary depending on individual factors.