HealthVit Omega-3 Fish Oil 1000mg Double Strength 160mg EPA 120mg Softgel
(60 soft gelatin capsules in bottle)
HealthVit Omega-3 Fish Oil 1000mg Double Strength 160mg EPA 120mg Softgel
(60 soft gelatin capsules in bottle)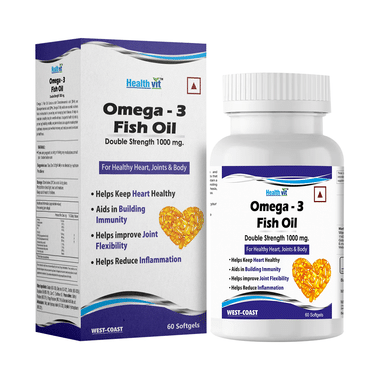 Product Details
Healthvit Omega 3 fish oil 1000mg Softgels contains omega-3 which can convert into anti-inflammatory substances like prostaglandins and leukotrienes which are believed to support joints by promoting flexibility as well as mobility and provide pain relief.

Key Ingredients:
Omega 3

Key Benefits:

Helps to maintain good cholesterol and lowers the bad cholesterol levels
Maintain optimal triglyceride levels for a healthy heart
Fish Oil is the richest source of omega-3 fatty acids
Directions For Use:
Take 2 soft gel capsules 1 to 3 times daily with food or as directed.

Safety Information:

Read the label carefully before use
Keep out of reach of the children
Store in a cool dry place
Do not exceed the recommended dosage
This product is non-returnable.