HealthVit Flaxseed Oil 1000mg Softgel
(60 soft gelatin capsules in bottle)
HealthVit Flaxseed Oil 1000mg Softgel
(60 soft gelatin capsules in bottle)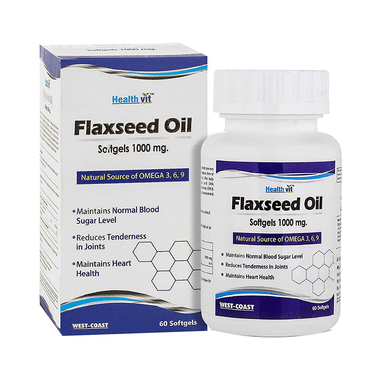 Product Details
HealthVit Flaxseed Oil 1000mg Softgel
Flaxseed oil provides a vegetarian source of Omega 3 compared to other fish oil supplements. It has 50-55% of omega-3 fatty acid in the form of alpha-linolenic acid (plant-based source of omega-3). Our body converts alpha-linolenic acid into EPA (Eicosapentaenoic acid) and DHA (Docosahexaenoic acid) in the process of metabolism in the liver. EPA and DHA reduce the risk of heart disease, high blood pressure and high cholesterol levels.

Key Ingredients:

Key Benefits:

Flaxseed is also known to increase fat metabolism and effectively manage weight
It supports a healthy mood and provides relief from stress
EPA and DHA help maintain your heart in good condition, regulate blood pressure, keep it in the normal range, and maintain fats in the body
Flaxseed omega 3, 6, 9 promotes and maintains the health of your cardiovascular health, immune response, brain function, joint care, brain, and eyes
Flaxseed oil can help you feel more energized by helping your heart work more efficiently and naturally

Directions For Use:
One capsule three times a day after a meal or as directed by a healthcare practitioner

Safety Information:

Store in a cool and dry place away from direct sunlight
Keep out of reach of children
This product is non-returnable.