Durex Air Ultra Thin Condom
(10 condoms in packet)
Durex Air Ultra Thin Condom
(10 condoms in packet)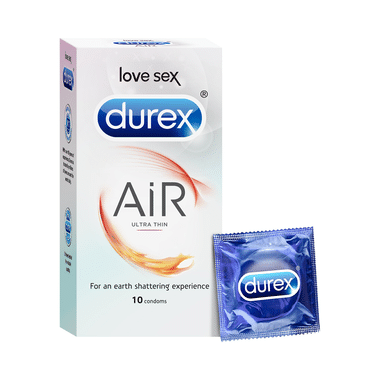 Product Details
Durex Air Ultra Thin Condom are so thin you will feel there is nothing between partners and gives the ultimate natural sensation. It fits well and is made with fine quality raw materials.

Uses
This product is designed to prevent pregnancy, give protection against sexually transmitted diseases.

Product Specification & Features:

Lubricated, transparent, and straight-walled and teat shaped for a close fit
Provide perfect lubrication and a pleasurable fit
100% electronically tested and dermatologically tested
Natural rubber latex condoms
Directions For Use:
Just before indulging in sexual intercourse put the condom on the erect genital
The roll should be on the outside
The end of the condom must be squeezed before putting it on to release any air trapped inside
While squeezing the end with one hand, one should put the condom on top of the genital and roll it with the other
Once ejaculation is reached, and while the genital is still erect, hold the condom firmly, and take it off carefully
Safety Information:
This product is for single use only
Always use a fresh condom during intercourse
Seek medical assistance as soon as possible, at least within 72 hrs, if the condom leaks/ bursts during use
Do not use a condom after the expiry date, indicated on the pack
Store the condoms in a cool, and dry place
Protect from heat and direct sunlight
This product is non-returnable.