Dr. Morepen Triple Strength Omega 3 Fish Oil 1250mg | Softgel For Heart, Brain & Joints
(60 soft gelatin capsules in bottle)
Dr. Morepen Triple Strength Omega 3 Fish Oil 1250mg | Softgel For Heart, Brain & Joints
(60 soft gelatin capsules in bottle)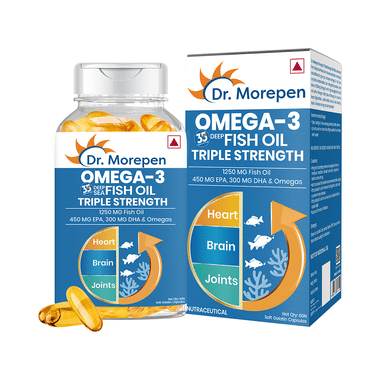 Product Details
Dr. Morepen Omega 3 Triple Strength 1250mg Deep Sea Fish Oil with DHA & EPA 900mg Softgel
It is a dietary supplement enriched with Peruvian fish oil and omega-3 fatty acids that provide cardiovascular and nervous support. Both DHA and EPA can promote heart health; DHA may be more effective at decreasing triglycerides and improving your cholesterol profile. DHA is required to maintain normal brain functions and enhance learning ability in humans.

Key Ingredients:
Micro Filtered Fish Oil(Omega 3 EPA and Omega 3 DHA), Food Grade Gelatin, Sorbitol, Flaxseed Oil, Vitamin E(Tocopherol Acetate), Capsule Shell(Gelatin Agent, Humectant, Sequestrant)

Key Benefits:

Supports heart health: Omega-3 Fish Oil Triple Strength capsules help to reduce inflammation throughout the body and also keep triglycerides levels in check
Supports brain, eyes and joints health: The brain uses omega-3 fatty acids to prevent nerve damage, essential for learning and improved memory. It also helps prevent age-related vision loss and preserve vision. Omega-3s help reduce inflammation in the joints, reducing swelling and pain, leading to sound joint and bone health
Great for skin: Omega-3 helps regulate the skin's oil production and improves hydration for smoothening rough and dry skin, making it glow naturally. It also helps reduce the signs of ageing, subdues breakouts and has a soothing effect on skin irritation
High-concentration soft gels: The use of advanced extraction technology has allowed fish oil extraction at a high concentration of EPA and DHA. It is a plenteous source of omega-3, containing 900 mg omega fatty acids, including 550 mg EPA and 350 mg DHA
Refined omega-3: The capsules are made of the highest quality fish oil sourced from cold water fish (Peruvian Anchovy) and are processed through molecular distillation to eliminate any heavy metal (such as mercury). It contains no additives, no added flavour and no heavy metals
Better absorption: It ensures a high-end delivery system through an anti-reflux formula for better absorption of fatty acids and has no fishy aftertaste or burps

Good to Know: Fish oil is processed through molecular distillation to eliminate any heavy metal (such as mercury)

Effects of Deficiency:
Lack of Omega-3 can cause:

Mood swings or depression

Product Form: Softgel capsules

Directions for Use:
Take one soft gel in the evening after a meal or as prescribed by your medical practitioner.

Safety Information:

Read the product label carefully before use
Store in a cool and dry place away from direct sunlight
Keep out of reach of children
Consult a doctor before taking any supplement
Do not exceed the recommended dosage
Pregnant or nursing mothers, children, and people with medical conditions must consult a physician before taking this supplement

Quick Tips: Do not drink milk after consuming this medicine as it contains fish oil

Frequently Asked Questions:

Q. Can this medicine be taken during pregnancy and breastfeeding?
Consult a doctor before taking any supplement. Your doctor will prescribe an appropriate dose based on your clinical condition.

Q. Is it safe to consume alcohol while taking this medication?
Interaction with alcohol is unknown. It is advisable to consult your doctor before consumption.

Q. How long does it take for this medicine to take effect?
There are no well-established studies to back up the onset of the effects of this medicine. However, it is best to consult with your doctor first.