Dr Morepen BP 02 Blood Pressure Monitor
(1 Unit in box)
Dr Morepen BP 02 Blood Pressure Monitor
(1 Unit in box)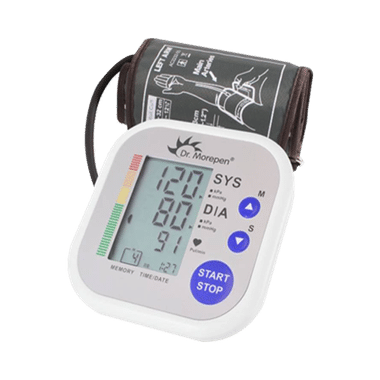 Product Details
Dr Morepen BP 02 Blood Pressure Monitor helps provide accurate and precise readings. The device helps detect systolic and diastolic pressure and heart rate


Uses:
It is used to measure blood pressure and heart rate


Product Specifications and Features:

High-low Classification Indicator: Yes
Data Average: Last 3 readings
Irregular Heartbeat Detection: Yes
User Interface: For 2 users
Measurement Range: Pressure: 40-230 mmHg; Pulse: 40-199 beats/minute
Blood Pressure Measurement Accuracy: ± 3mmHg
Pulse Measurement Accuracy: ± 5 percent
Date and Time Indicator: Yes
Power Source: 4 x AAA batteries (Alkaline)
Low Battery Indicator: Yes
Has comfort inflation technology
Extra-large LCD display for easy viewing of readings
Contents: 1 monitor, 1 normal-sized cuff, 4 AAA batteries and user manual
Directions for Use:
Attach the cuff to the blood pressure monitor
Wrap the cuff around the arm securely and tightly
Press the START/STOP button, and the inflation will begin
The reading will be taken, and the cuff shall deflate
The measurement is then shown on the display
Safety Information:
Read the label carefully before use
Store in a cool and dry place
Keep out of reach of children
The readings from this device are only to be used for general information purposes. They are not a substitute for a medical examination from a registered medical practitioner
Quick Tips:
Ensure the cuff's air tube is placed downwards towards the elbow while inserting the cuff
Keep at least a 1-minute gap between readings when taking multiple measurements
Note:
Customer Care Number: 1800-11-7600
This product is non-returnable.