Dominion Care Spring Acupressure And Magnetic Therapy Paduka Slippers Size 9
(1 Massager in box)
Dominion Care Spring Acupressure And Magnetic Therapy Paduka Slippers Size 9
(1 Massager in box)
Available in other variants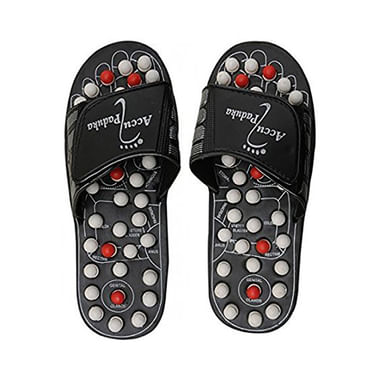 Product Details
Dominion Care Spring Acupressure and Magnetic Therapy Paduka Slippers helps in applying pressure to the points on the foot and relieve pain and stress.

Uses
It is useful in relieving pain in the foot by applying pressure in the needed areas.

Product Specification and Features:

Paduka helps in complete body pain relief
It provides the benefits of accupressure therapy, magnetic therapy and reflexology
Contains required number of massage points to cover all the accu points present in the foot
Easy to store, and carry and is suitable for both men and women
Note:
Customer Care Number: 9810691064

Directions For Use
Use as directed by the health-care professional.

Safety Information:

Read the label carefully before use
Keep out of reach of the children
Store in a cool dry place away from use
This product is non-returnable.