Coros Vertix GPS Adventure Wrist Smartwatch
(1 Unit in box)
Coros Vertix GPS Adventure Wrist Smartwatch
(1 Unit in box)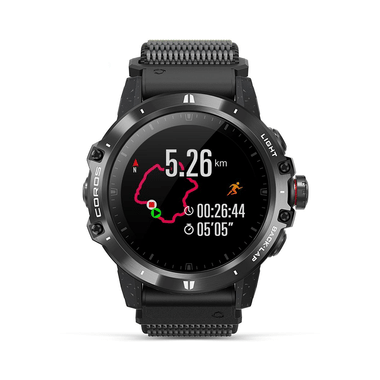 Product Details
Coros Vertix GPS Adventure Wrist Smartwatch will add a new dimension to the wrist by effortlessly mixing design and utility. It has a bright, scratch-resistant 1.2-inch colour display with 240x240 resolution. It contains GPS tracking that monitors outside activities in order to help live a healthier life. It's water-resistant to a depth of 150 metres, making it ideal for exercise. Another benefit is that it is lighter and incredibly durable. A featherlight, corrosion-free titanium frame and bezel showcase the commitment to durability. The quality of the Vertix allows one to attack the world's harshest elements without sacrificing their style.

Uses:
It can be used to track sleep, blood oxygen level, body energy level and body stress along with the whole fitness regime.

Product Specifications and Uses:

Sapphire glass screen with Diamond-like coating gives Vertix the most resilient screen available
The only GPS watch with a 150 m waterproof rating tat withstands pressures equivalent to a depth of 150 metres
Vertix body weights just 54 grams, making it the light and handy too wear
24/7 blood oxygen monitoring with Altitude mode, Vertix watch provides daily acclimatisation evaluation and suggests when it is safe to climb higher
Completely new engineered digital dial for one finger control, even with thick climbing gloves or under water
It supports offline mapping and includes- landscape, topo and hybrid modes by using touch screen and dial, one can explore this function
Allows to create, share and even download workouts from professional athletes and coaches and allows to build your own workout routine in Coros App for running, cycling, swimming or strength training
The battery lasts up to 150 hours in UltraMax mode when using GPS, while normal GPS mode lasts up to 60 hours and ordinary usage up to 45 days

Directions For Use:
Set up the watch as given in the user manual.

Safety Information:

Store in a cool and dry place
Keep out of the reach of children
Do not use if the seal is missing or damaged
This product is non-returnable.