Accu-Chek Guide Wireless Blood Glucose Monitoring System With 10 Test Strips Free
(1 Unit in box)
Accu-Chek Guide Wireless Blood Glucose Monitoring System With 10 Test Strips Free
(1 Unit in box)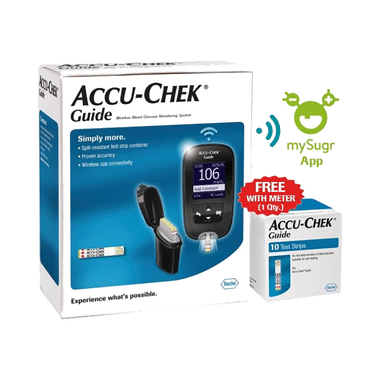 Product Details
Accu-Chek Guide Wireless Blood Glucose Monitoring System with 10 Test Strips Free is designed for people with diabetes and those on insulin who need digital data management. It is made for home usage and gives accurate results. The device requires only a tiny amount of blood samples. It comes with a spill-resistant vial designed to hold strips tightly in place.

Uses:
It helps to monitor the blood glucose level.

Product Specifications and Features:

Content: Glucometer, softclix lancing device, two batteries, softlcix lancets, carry case, warranty card, user manual, test strip and quick start guide
Simple to log results without a paper logbook: Automatically logs results right to an app (mySugr diabetes management app) on the smartphone
Delivers advanced accuracy for reliable results to trust
Proven accuracy– exceeds current ISO accuracy standards 1, 2, 3
Spill-resistant SmartPack vial lets to take one and spill none
Place a small drop of blood anywhere along the end of the test strip instead of on a tiny spot
Strip port light for testing in the daytime or at night
Comes with a push-button strip ejector meaning that one doesn't have to touch used strips
The clixmotion technology provides a virtually pain-free experience

Compatible With:
Accu-Chek blood glucose test strip

Directions for Use:

Removing the test strip: Take the large and solid test strip out of its vial and close the box again
Inserting test strip: The device activates automatically and recognises the strip code (auto coding)
Extracting blood: Prick your finger with the lancing device
Applying blood: Apply the blood from above onto the test strip. The channel absorbs up the blood sample while the blood sample window on the test strip shows the filling level
Reading the measurement: Read the measurement on the LCD
Blood-free test strip removal: Hygienic removal of the test strip without blood contact
Lancet ejection: Clean lancet removal without blood contact
Safety Information:
Read the label carefully before use
Store in a cool and dry place, away from sunlight
Keep out of reach of children
Do not take any medical decisions without consulting a doctor
Always discuss the results with a registered medical practitioner
Do wash your hands thoroughly with an antiseptic hand wash before the test
Quick Tips:
For in-vitro diagnostic use only
Do not squeeze your finger when taking a blood drop sample

Frequently Asked Questions:

Q. How do blood glucose monitors work?
Diabetes devices or glucometers test the amount of glucose in the blood. The test strips in glucometers contain an enzyme glucose oxidase, which reacts with glucose in the blood and sends the result as an electronic signal displayed on the monitor.

Q. How often should you test your blood glucose levels?
In the case of type 1 diabetes, check the blood glucose levels several times a day, such as pre and post-meals and before and after exercise or as advised by the doctor. Whereas, in the case of type 2 diabetes, monitoring the sugar levels might be based on the severity of the condition, which can be several times a day, once a day, or thrice a week. Hence, talk to the doctor about how often blood glucose levels should be tested.

Warranty Info
10 Years

This product is non-returnable.