Threptin High-Calorie Protein Vanilla Diskette
(275 gm Diskette in Tin)
Threptin High-Calorie Protein Vanilla Diskette
(275 gm Diskette in Tin)
Available in other variants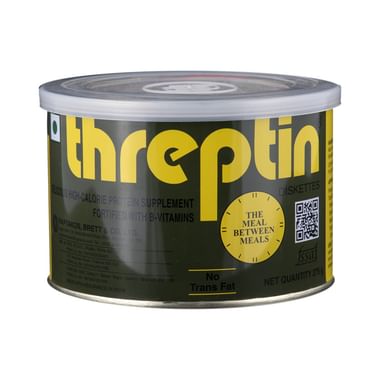 Product Details
Threptin High-Calorie Protein Diskettes is used as a supplement to a diet consisting largely of cereals & vegetables. It is a solid protein powder that offers health benefits to all age groups like growing children, pregnant or lactating women, people with a stressful life, the aged and recuperating patients. Threptin Diskettes is a complete protein of high biological value.

Key Ingredients:

Class 1 casein protein with PDCAAS (Protein Digestibility Corrected Amino Acid Score) value-1
Cholesterol and trans-fat free
Key Benefits:
Threptin Diskettes is ready to eat protein which relieves hunger in between meals
It can be used by individuals of all ages
It provides the individual with protein
Directions For Use:
A person can have 3 to 5 of them at a time and up to 3 times a day
Once opened, Threptin Diskettes should be consumed in 3 weeks
Safety Information

Store in a cool and dry place
Read the manual carefully
This product is non-returnable.