Tata 1mg Multivitamin Supreme, Zinc, Calcium And Vitamin D Immunity Booster Capsule
(30 capsules in box)
Tata 1mg Multivitamin Supreme, Zinc, Calcium And Vitamin D Immunity Booster Capsule
(30 capsules in box)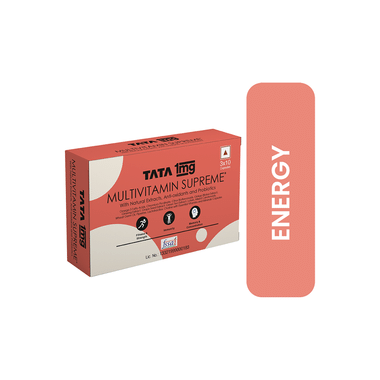 Product Details
Tata 1mg Multivitamin Supreme, Zinc, Calcium and Vitamin D Immunity Booster Capsule is your complete daily health supplement, packed with 25 essential vitamins and minerals that boost immunity, maintain cardiovascular health, and improve fitness and strength, enhance memory and concentration and support overall wellbeing.

Key Ingredients:

Vitamins and Amino Acids: Choline Bitartrate, Vitamin B3, Vitamin B1, Folic Acid, Biotin, Vitamin K, Vitamin D3, and Vitamin B12
Minerals: Calcium, Magnesium, Zinc, Potassium, Manganese, Copper, Iodide, Boron Chromium Picolinate, Selenium, Sodium Molybdate Dihydrate
Natural Extracts: Omega-3 Marine Triglycerides (33:22), Ginseng, Refined Wheat Germ Oil, Citrus Bioflavonoids, Green Tea Extract, Polyphenols, Grape Seed Extract, Mixed Carotenoids, Ginkgo Biloba, Piperine, and Lutein
Probiotics: Lacto Bacillus
Key Benefits:
It is a nutritional health supplement that helps to build your immunity
Its antioxidant properties help strengthen the immune system and neutralise free radicals
It helps in increasing strength and stamina
It is beneficial in improving memory and concentration
It supports healthy functioning of the cardiovascular system
It helps in improving flexibility and mobility of joints and regulating blood sugar levels

Good to Know: Packed with natural extracts

Effects of Deficiency:

Product Form: Capsule

Directions for Use:
Use as directed on the label or as prescribed by your medical practitioner.

Safety Information:

Read the product label carefully before use
Store in a cool and dry place away from direct sunlight
Keep out of reach of children
Consult a doctor before taking any supplement
Do not exceed the recommended dosage
Pregnant or nursing mothers, children, and people with medical conditions must consult a physician before taking this supplement

Quick Tips: Do not consume on an empty stomach, take after meals

Frequently Asked Questions:
Q. Can this medicine be taken during pregnancy and breastfeeding?
Consult a doctor before taking any supplement. Your doctor will prescribe an appropriate dose based on your clinical condition.

Q. Is it safe to consume alcohol while taking this medication?
Interaction with alcohol is unknown. It is advisable to consult your doctor before consumption.

Q. How long does it take for this medicine to take effect?
There are no well-established studies to back up the onset of the effects of this medicine. However, it is best to consult with your doctor first.