HealthVit L-Glutathione Reduced 100mg Capsule
(60 capsules in bottle)
HealthVit L-Glutathione Reduced 100mg Capsule
(60 capsules in bottle)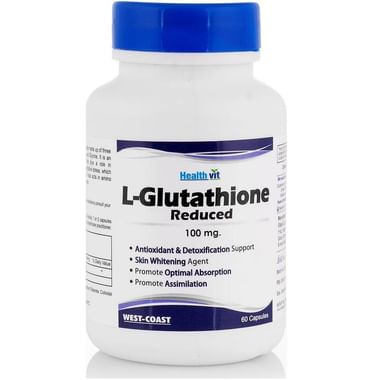 Product Details
Healthvit L-Glutathione Capsule is used is a dietary supplement that plays a major role in muscle protein development. It saves the body from radical oxidative stress thus, preventing premature ageing of cells. It plays a key role in amino acid transportation and detoxification pathways.

Key Ingredients:
• L-Glutathione (reduced)
• Anhydrous lactose
• Magnesium stearate
• Colloidal silicon

Key Benefits:
• Offers antioxidant and detoxification support
• Acts as a skin-whitening agent
• Promotes optimal absorption
• Stimulates and promotes assimilation

Direction for Use:
• 1 capsule to be consumed daily with water or juice
• Use as directed by the physician
• If you are pregnant or a lactating mother, consult a doctor before use

Safety Information:
• Read the label carefully before use
• Keep out of the reach of children
• Do not exceed the recommended dosage
• Store in a dry place at a temperature below 30°C

This product is non-returnable.