Dr Morepen BG 03 Gluco One Glucose Monitoring System With Gluco One BG 03 Blood Glucose 25 Test Strip
(1 Kit in box)
Dr Morepen BG 03 Gluco One Glucose Monitoring System With Gluco One BG 03 Blood Glucose 25 Test Strip
(1 Kit in box)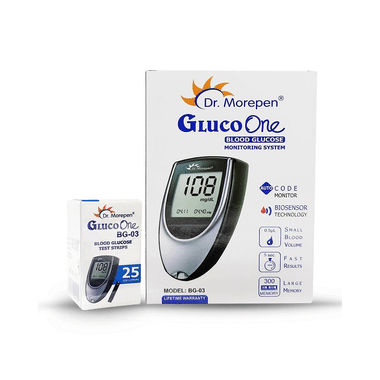 Product Details
Dr Morepen BG 03 Gluco One Glucose Monitoring System with Gluco One BG 03 Blood Glucose 25 Test Strip
Testing your blood glucose is an essential part of managing diabetes. Dr Morepen's blood glucose monitor model is a smart glucose monitor that helps you measure blood glucose levels quickly, accurately and comfortably.

Uses:
This device is used to self-monitor the blood glucose levels to keep managing diabetes and related symptoms.

Product Specifications and Features:

Memory: It stores 300 results with date and time
Easy-to-use: It has an easy three-step operation. It has a hassle-free strip system and only requires 0.5µL of blood sample
Fast and accurate results: The meter requires 5 seconds to measure and deliver blood glucose levels
It has an accurate and ergonomic model, which gives 7, 14, 21, 28, 60 and 90 days averages to the user
Smart: It has a large display and a sleek design
It has the advantage of alternate site testing
Minimum glucose level measurement range (mg/dL): 20 mg/dL
Maximum glucose level measurement range (mg/dL): 600 mg/dL
Minimum blood sample needed: 0.5 µL(1ul(microlitre)=1 thousandth of a millilitre)
Technology used: Biosensor technology
It includes a glucometer (with a battery) (1 unit), lancing device (1 unit), lancets (10 units), glucometer plastic case (1 unit), a vial of 25 test strips

Indication: Diabetes Mellitus

Directions for Use:

Step 1: Install the battery
Step 2: Draw a blood sample
Step 3: Apply blood to the test strip
Step 4: Results in 5 seconds
Safety Information:
Read the label carefully before use
Keep out of reach of children
Avoid any physical damage
Store in a clean and dry place
Check the strips are within their expiry date
Make sure to wash and dry your hands before testing
Quick Tips:
Every time you start to use a new box of test strips, make sure to calibrate your meter
Do not squeeze your finger when taking a blood drop sample
Warranty Info:
Warranty: Lifetime Morepen Warranty
Warranty Service Type: The service engineer will come to the site to get the product repaired or inspected
Covered in Warranty: Manufacturing defects only
Not Covered in Warranty: External accessories (such as battery)
This product is non-returnable.