Coros Vertix 2 GPS Adventure Wrist Smartwatch Obsidian
(1 Unit in box)
Coros Vertix 2 GPS Adventure Wrist Smartwatch Obsidian
(1 Unit in box)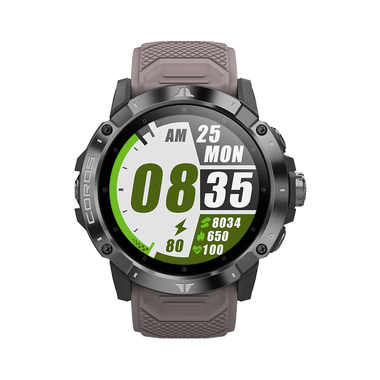 Product Details
Coros Vertix 2 GPS Adventure Wrist Smartwatch Lava
An adventure by definition is an exciting experience. With the Vertix 2 GPS Adventure Watch, Coros brings bold innovations as well as unimaginable advancements to existing features- all so one can conquer exciting new challenges maybe haven't even thought of yet. No matter where the pursuits take one– the Vertix 2, will be there every step of the way. The quality of the Vertix allows one to attack the world's harshest elements without sacrificing their style.

Uses:
It is designed with numerous features keeping in mind people who like to lead an active and healthy lifestyle.

Product Specifications and Uses:

Built from ground up, Vertix 2 utilises the next-generation chipset and processor, allowing a better and faster Coros experience
A 1.4-inch screen with 16% higher resolution allows the Vertix 2 to present more information at a glance and keeps one updated with key metrics anytime and anywhere
The battery lasts up to 140 hours of standard full GPS tracking and 60 days of normal use, the Vertix 2 more than doubles the battery life
With the Vertix 2 ECG capabilities, one can use GPS Watch to measure their heart rate variability straight from the wrist
It supports offline mapping and includes- landscape, topo and hybrid modes by using touch screen and dial, one can explore this function
Allows to create, share and even download workouts from professional athletes and coaches and allows to build your own workout routine in Coros App for running, cycling, swimming or strength training
Vertix 2 can hold upto 32 GB of onboard storage data, more workouts, more routines and music

Directions For Use:
Set up the watch as given in the user manual.

Safety Information:

Store in a cool and safe place
Keep out of the reach of children
Do not use if the seal is missing or damaged
This product is non-returnable.