Accu-Chek Softclix Lancets
(25 lancets in box)
Accu-Chek Softclix Lancets
(25 lancets in box)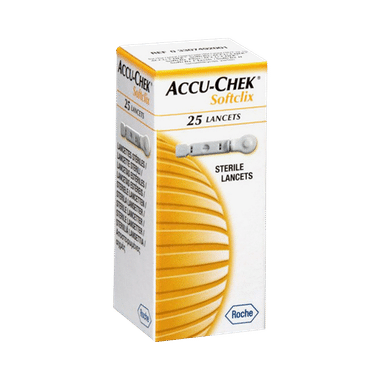 Product Details
Accu-Chek Softclix Lancets is a small, sharp object used to prick the skin to help test blood glucose levels using blood glucose monitors and test strips. It helps check blood sugar levels and enables people with diabetes to effectively monitor their treatment.

Uses
It is a small needle encased in a plastic cylinder used to prick the skin on the fingertip to obtain a fresh capillary blood sample for blood glucose testing.

Product Specifications and Features

It has a clixmotion technology that minimises any painful side-to-side motion of the lancet
It is non-washable and non-resuable
It has a shorter penetration type that is gentle on the fingertip
Product dimensions: ‎10.7 x 7.3 x 5.2 cm; 80 Grams
Penetration: 0.8 to 2.3 mm

Compatible With: Accu-Chek Softclix

Directions for Use

Remove the cap from the lancing device
Insert a drum of lancet with the white end first
Push it in and place the cap back on your lancing device
Set the penetration depth by turning the dial on the cap of the lancing device to match your skin type

Safety Information
Read the label carefully before use
Keep out of reach of children
Avoid any physical damage
Store in a clean and dry place

Quick Tips

A drum of lancets contains six lancets. Do not remove the drum until all six lancets have been used
Once the drum is removed, it cannot be inserted back into the lancing device

Frequently Asked Questions:
Can it be used with other lancing devices?
No, it is compatible only with the Acuu-check lancing device.

What depth should I use for my skin?
Start with the first depth and keep lowering the depth until you find the correct depth for you.

This product is non-returnable.