Accu-Chek Guide Test Strip
(50 Test Strips in box)
Accu-Chek Guide Test Strip
(50 Test Strips in box)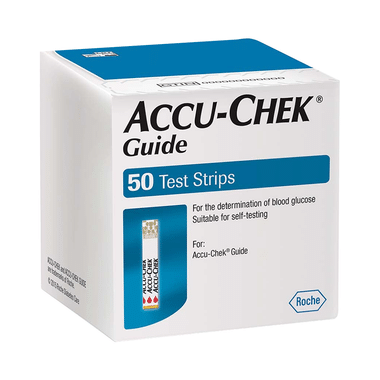 Product Details
Accu-Chek Guide Test Strip is beneficial for dieabtic patients as it helps them regularly check their blood glucose levels. The test trip allows for a quick and easy method to monitor your blood glucose levels. It helps regulate and manage diabetes by regularly monitoring any changes in blood glucose levels, enabling the user to take the needed measures to manage diabetes.

Uses:
The test strip is a quick and effective way to check blood sugar levels

Product Specifications and Features:

Spill-resistant oval strip vial: The strip vial design helps protect against any spills, making it straightforward to remove just one strip
Easy edge dosing: Comes with a wide yellow application area to enable dosing on the edge of the strip and is the largest dosing area
Rapid Testing: It displays the test results in less than four seconds after dosing the strip
Accurate Testing: It fulfills the ISO requirements for quality and provides reliable results
Automatic Coding: It displays the results without the need for any coding
Sample types: Capillary, venous, arterial and neonate
Storage Conditions: -25 °C to +70 °C (-13 °F to +158 °F)
Measuring Principle: FAD glucose dehydrogenase (GDH)
Measuring Conditions: 4°C to 45 °C (39°F to 113 °F)
Compatible With:
Accu-Chek Guide® Glucometer Kit (with Bluetooth connectivity)
Accu-Chek Softclix Lancet – Pack of 200
Directions for Use:
Remove a test strip from the spill-resistant container. Close the cap tightly
Insert the metallic end of the test strip into the meter
Touch the yellow edge of the test strip to the blood drop
The test result appears on the display in less than 4 seconds
Safety Information:
Read the label carefully before use
Keep out of reach of children
Avoid any physical damage
Store in a clean and dry place
Check the strips are within their expiry date
Make sure to wash and dry your hands before testing
Quick Tips:
Washing and drying the hands before using the test strip is recommended to ensure the result is not influenced by sugar that may be present on your finger
Record the result in a monitoring diary
This product is non-returnable.